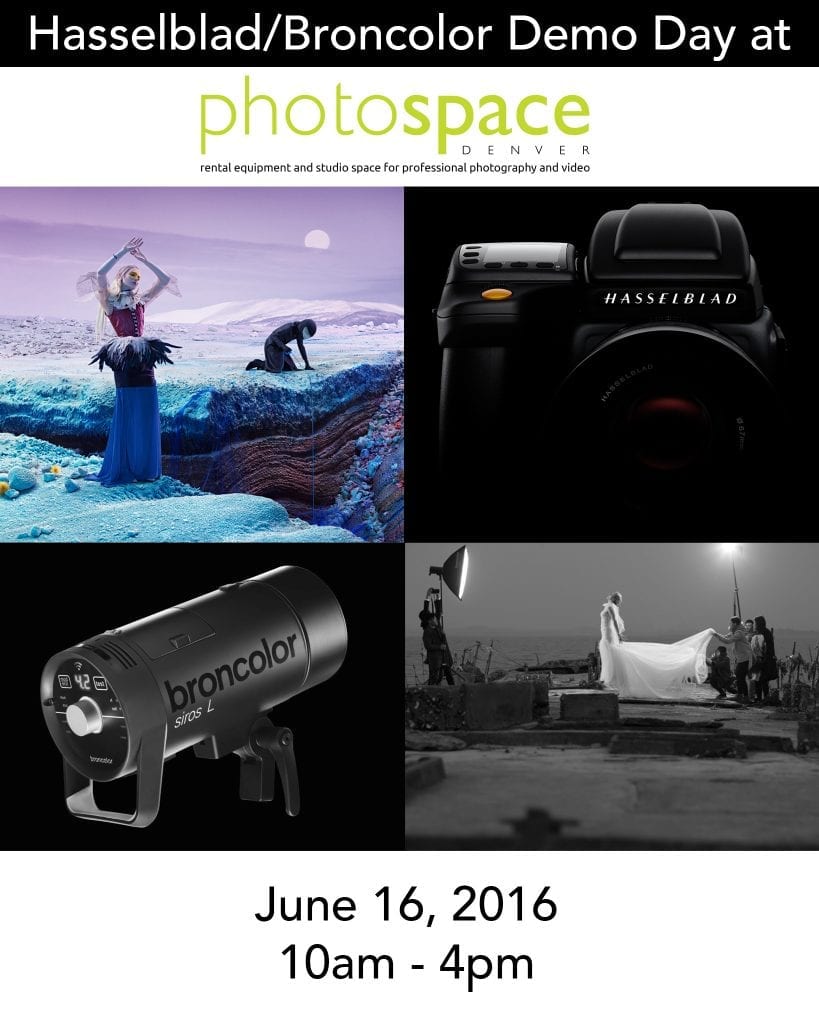 Please join us in celebrating 75 years of Hasselblad living history and broncolor lighting innovations at photospace on June 16th!
Drop by photospace anytime between 10am-4pm on June 16, 2016 and get your hands on the innovative new Hasselblad H6D camera, along with the incredible new broncolor Siros L – battery portable, studio quality strobes. Shoot live models with the spectacular Para line of large parabolic reflectors and a still life with the amazing broncolor Picolite system.
+ Fashion, Portraiture and Still Life Demos
Go hands-on with the all new Hasselblad H6D system and experience Swedish craftsmanship, iconic design and uncompromising image quality. Hasselblad is pleased to present you the opportunity to try the all new H6D camera system at photospace on June 16, 2016. You will have the opportunity to photograph a stunning fashion and beauty model with the H6D on an indoor/outdoor set using the highest quality Broncolor flash systems and light modifiers. You will also be able to shoot the H6D on a still life shoot, using the Broncolor Picolite system, which allows for stunningly precise food and product lighting.
+ Hasselblad H6D
With its all new electronic platform, dual card slots, inclusion of the new USB-C port, a new high-resolution touchscreen display, shutter speed ranging from 60 minutes to 1/2000th of a second, ISO sensitivity up to 12,800, and video up to 4K, the H6D in both its 50 and 100 CMOS options represents a new chapter in medium format photography. Come see for yourself!
+ Broncolor Siros L
The precision Swiss-made Siros L is Broncolors's newest strobe. A powerful, battery-powered, fast, easy to use, monolight that brings studio level lighting on location, completely wirelessly. With 400 or 800 ws power, 1/9000 s (t 0.1) or 1/19'000 s (t 0.5) flash durations, fast recharging, and total control from an iPad over an in-field wi-fi network, the Siros 800 is the most powerful compact monolight currently available on the market. The Siros 800 L is, like the somewhat smaller version, the Siros 400 L, a true genius in offering discerning photographers optimum lighting both indoors and outdoors.
+ Broncolor Lighting Systems
We will also have a wide array of Broncolor packs, heads and modifiers setup for you to use in conjunction with the Hasselblad H6D in fashion, portraiture and still life setups.
rsvp to: gking@hasselbladbron.com